Pistol Calibers: .25 Auto / .32 Auto / .380 Auto / 9x18 / 9mm Luger / .40 Caliber / 45 ACP / 38 Special / 357 Magnum / .357 SIG / 44 Special / 44 Mag / 45 Long / 10mm Auto / 41 Magnum / 45 Auto Rim / 30 Mauser / 30 Luger / 7.62x25 / 38-40 / 44-40 / 50 AE / 500 S&W Mag / 32 S&W Long / 38 Super / 45 GAP / 7.62x38R Nagant / 45 Schofield / 454 Casull / 44 Russian / 38 S&W / 380 MK II /45 Win Mag / 400 Cor-bon / 327 Federal Mag / 460 S&W Mag / 22 Rem Jet / 32 S&W (short)
Rifle Calibers: .30 Carbine / .223-5.56 / 22-250 / 5.7x28 FN / 7.62x39 / 7.62x54R / .308 Win / 30-30 / .270 Win / 8x57 / 30-06 / 45-70 Gov / .303 Brit / 30-40 Krag / 7mm Rem Mag / 6.5x50 Jap / 7.7x58 Jap / 7.5x55 Swiss / 6.5x55 Swede / 6.5 Carcano / 6.8 SPC / / 50 Beowulf / 300 AAC BLK / 50 BMG / .243 Win / 300 Win Mag / 22 Hornet / 8x56R Mannlicher / 338 Lapua / 222 Rem / 450 Bushmaster / 6.5 Grendel / 6.5 Creedmoor / 32-20 Win / 17 Remington / 458 SOCOM / 38-55 Win / 25-06 Rem / 338 Win Mag / 7.5x54 MAS / 7mm-08 / 35 Remington / 204 Ruger
Shotgun: 10 gauge /12 Gauge / 20 Gauge / 28 gauge / 16 Gauge / 410 Bore/Gauge / Instructor sets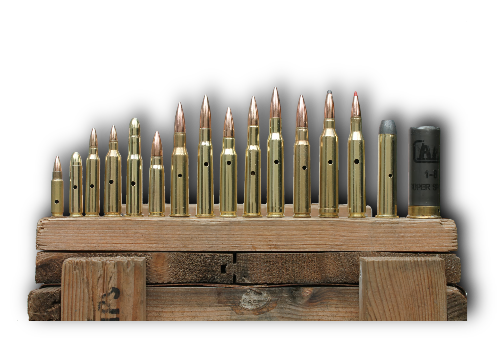 Up to 86 different cartridges in a set!
Great for: Function testing a firearm - Loading & unloading practice - magazine drills - family preparedness - competitive training - display - film props - costumes - reenactors
Over 150,00 INERT cartridges sold!
Dummy Ammunition, firearm instructor supplies, and cartridge display bullets made from real cartridge components.
Cartridge Assortments