Pistol Calibers: .25 Auto / .32 Auto / .380 Auto / 9x18 / 9mm Luger / .40 Caliber / 45 ACP / 38 Special / 357 Magnum / .357 SIG / 44 Special / 44 Mag / 45 Long / 10mm Auto / 41 Magnum / 45 Auto Rim / 30 Mauser / 30 Luger / 7.62x25 / 38-40 / 44-40 / 50 AE / 500 S&W Mag / 32 S&W Long / 38 Super / 45 GAP / 7.62x38R Nagant / 45 Schofield / 454 Casull / 44 Russian / 38 S&W / 380 MK II /45 Win Mag / 400 Cor-bon / 327 Federal Mag / 460 S&W Mag / 22 Rem Jet / 32 S&W (short)
Rifle Calibers: .30 Carbine / .223-5.56 / 22-250 / 5.7x28 FN / 7.62x39 / 7.62x54R / .308 Win / 30-30 / .270 Win / 8x57 / 30-06 / 45-70 Gov / .303 Brit / 30-40 Krag / 7mm Rem Mag / 6.5x50 Jap / 7.7x58 Jap / 7.5x55 Swiss / 6.5x55 Swede / 6.5 Carcano / 6.8 SPC / / 50 Beowulf / 300 AAC BLK / 50 BMG / .243 Win / 300 Win Mag / 22 Hornet / 8x56R Mannlicher / 338 Lapua / 222 Rem / 450 Bushmaster / 6.5 Grendel / 6.5 Creedmoor / 32-20 Win / 17 Remington / 458 SOCOM / 38-55 Win / 25-06 Rem / 338 Win Mag / 7.5x54 MAS / 7mm-08 / 35 Remington / 204 Ruger
Shotgun: 10 gauge /12 Gauge / 20 Gauge / 28 gauge / 16 Gauge / 410 Bore/Gauge / Instructor sets

Great for: Function testing a firearm - Loading & unloading practice - magazine drills - family preparedness - competitive training - display - film props - costumes - reenactors - museums
Over 175,000 INERT cartridges sold!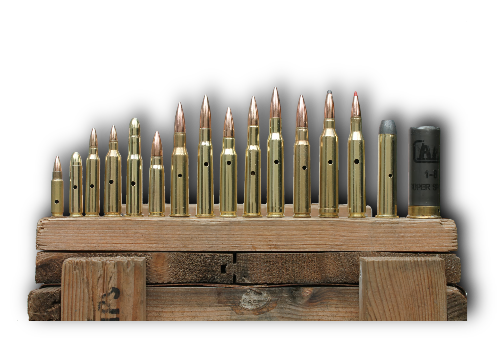 Up to 86 different cartridges in a set!
Folks:
"I bought a gun that I felt I needed some dummy ammo to learn the ins and outs. SnapCaps and others, besides being expensive would not give me the loading / weight / durability needed and thus not a realistic training experience.
I just BY CHANCE ran across dummybullet.com and then saw many testaments to his (Bruce) work.
The price is right and actually I just took a chance and bought a set for every gun I own. I received my shipment and I can tell you it's exactly what I expected. If you want to safely train yourself, wife, kids etc without live ammo this is great stuff.
Please consider it if you need it and pass one to anyone who has firearms. Visit dummybullet.com"
Cheers, Marc
Dummy Ammunition, firearm instructor supplies, and cartridge display bullets made from real cartridge components.
Cartridge Assortments