Dummy Ammunition, firearm instructor supplies, and cartridge display bullets made from real cartridge components.
Cartridge Assortments

$3.95 Flat Rate Shipping!!

Dummy Bullet has worked with jewelry designers, costume designers, has supplied inert bullets to be used in movies and worked with set designers, and stage crews. Often I will get requests to make 'bullets' up to look a certain way. If you need something, to look like….or have these holes drilled….or a different bullet design…or…..just let me know.
Inert 'bullets' can be used in many different ways, and can be included in a variety of different artistic mediums. Jewelry, textiles, and sculpture are just a few areas where INERT, but realistic, cartridges can be incorporated into a design with unique results!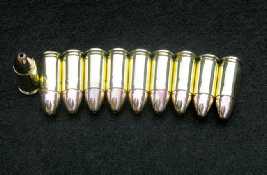 9mm 'bullet beads'
These 'beads' are actual 9mm pistol cartridges that have been rendered completely inert and are ready to be used in your project. A hole runs from top to bottom and the cartridge can be strung like a bead. Best yet, the bead is extremely light weight. All of the lead core of the bullet has been removed so you are left with a cartridge that is almost exactly half the weight of a regular inert 'bullet'. In fact the finished 'bullet bead' weighs less than a quarter!
These are made one at a time with great care and they will come to you highly polished and ready to use in your jewelry. Remember that everything I sell is completely INERT.
9mm 'beads' with brass cases (as shown)
$3.50 each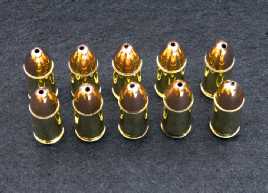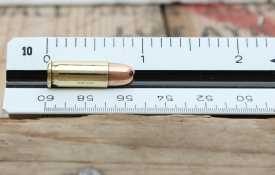 .25 Auto 'bullet beads'
These Bullet "BEADS" are made using the .25 Auto cartridge. The 25 auto is the smallest of all of the center fire pistol cartridges. Their diminutive size means that they can be integrated into smaller pieces such as earrings or charms. Each cartridge is made without the lead normally found in the cartridge so they are SUPER light!
These are made one at a time with great care and they will come to you highly polished and ready to use in your jewelry. Remember that everything I sell is completely INERT.
25 Auto 'beads'
$3.50 each



Shotgun Shell craft buttons (12 gauge)
Made from the bases of actual shotgun shells these are solid brass and they are cut down to about the thickness of a coin. Can be used in many craft and jewelry applications. 2 strands of paracord fit in the hole for those interested. Polished to a nice shine.
Sold individually
Shotgun shell 'buttons'
$2.95 each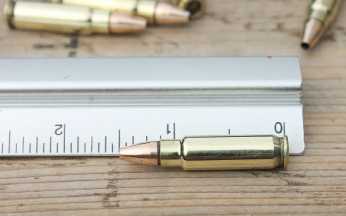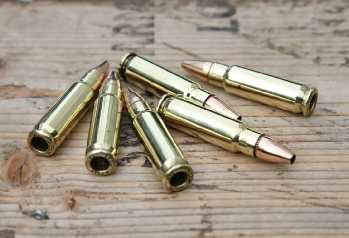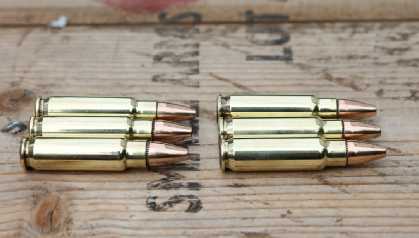 5.7x28 FN " Bullet Beads"
These are very cool. The 5.7x28 FN is a very small cartridge but has the same profile of a larger rifle round. Large cartridges are not well suited to be used in jewelry, but these are great! Only 1.5 inches long and very light, these can be adapted to many jewelry projects. They are drilled from top to bottom so they can be strung like a bead. All of the lead has been removed so they are very light and easy to string. These are quite a bit harder and more time consuming to make than the other 'beads' I sell so they are a little more expensive. They come with a nice shinny finish.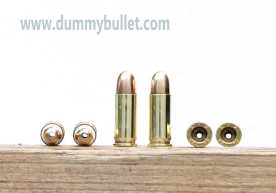 9mm 'beads' with NICKEL cases (not shown)
$3.50 each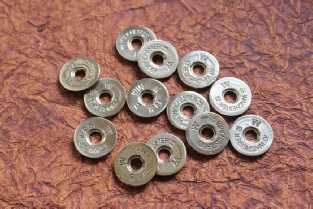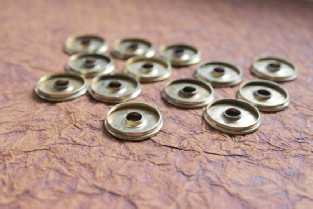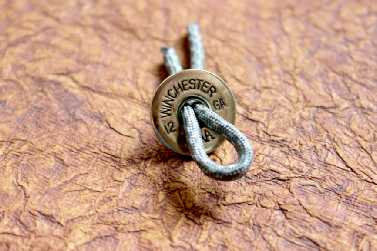 These 12 gauge shotgun shell bases measure 7/8" and are approximately 1/8" high/thick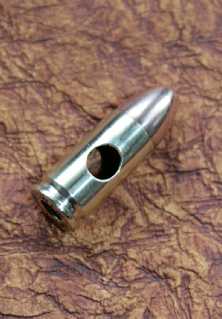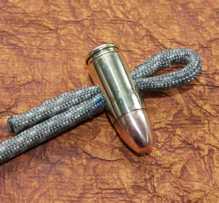 9mm "bullet" for use with paracord
Made from real 9mm components (completely inert of course) these have a hole large enough for 2 strands of 550 paracord running through the side of the case. Hole is smoothed (deburred) so you do not cut your paracord. Sold individually and come nice and shiny.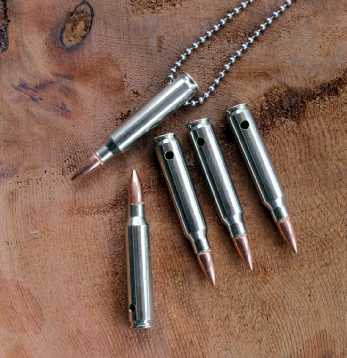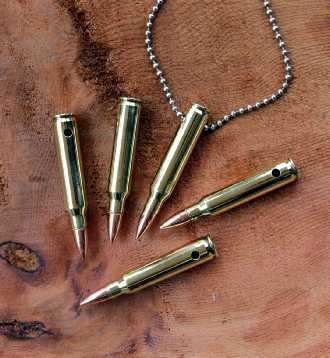 .223/5.56 Caliber INERT cartridges for necklaces in your choice of brass or nickel finish. These have the hole going through both sides of the case, near the bottom, so that it can hang nicely from a chain. Hole size is perfect for standard 2.4mm dog tag style chain or type 1 paracord or anything of similar thickness. The hole is deburred and the case is hand polished on a wheel. They look very nice.
Chain in not included just the cartridge.
Cartridge is approximately 2.25" long
Nickel finish .223 cartridge for necklace
IN STOCK
$3.95 each
Brass finish .223 cartridge for necklace
IN STOCK
$3.95 each